Why architecture matters to everyone: creativity on the future InternetJeff Burke, Assistant Dean for Technology and Innovation, School of Theater, Film and Television, University of California, Los Angeles, CA, USA
Abstract
The Internet will be a fundamental substrate for human creative expression and communication in the coming decades. Even with layered protocols and a variety of programming interfaces, its core abstractions shape our notions of what is possible on the network. Through an introduction to Named Data Networking (NDN), a proposed future Internet architecture, this talk will explore the relationship of technological choices at the architectural level to critical requirements of next-generation distributed applications. NDN replaces host-based communication using IP addresses with data-centric communication using data names as the narrow waist of the Internet's "hourglass" design. Based on experience with the strengths and weaknesses of the current Internet architecture, NDN also builds in fundamental security primitives and self-regulation of network traffic. Using the cognitive dimensions framework as a guide, this talk will discuss how such new architectural features and primitives have impacted the development of prototype applications in the NDN research project, and how they could influence the emergence of innovative new applications on the Internet in the future.
About the speaker
Jeff Burke's research explores the intersections of the built environment, computer networks, and storytelling. He has produced, managed, programmed and designed performances, short films, new genre art installations and new facility construction internationally for over fifteen years, incorporating emerging technologies as part of these projects and creative works. Currently, he is Assistant Dean for Technology and Innovation at the UCLA School of Theater, Film and Television (TFT), where he has been a faculty member since 2001. Burke co-founded REMAP, a joint center of TFT and the Henry Samueli School of Engineering and Applied Science, which uses a mixture of research, artistic production, and community engagement to investigate the interrelationships among culture, community, and technology. From 2006-2012, Burke was the area lead for participatory sensing at the NSF Center for Embedded Networked Sensing (CENS). He is Co-PI and application team lead for the Named Data Networking research project, a 12-campus effort supported by the NSF Future Internet Architecture program.
---
Growing up in the Internet shadow - and what next? Prof. Roch Guérin, Washington University in St. Louis, USA
Abstract
Today's networking researchers are both blessed and cursed. They are blessed in that they are riding one of the most incredible wave of technology revolution of the past century; the advent of the Internet. But this is also their curse, as every new system they build or idea they propose is measured against an Internet-scale yardstick. This talk briefly reviews the rise of the Internet and the unique circumstances behind it, and argues that a similar confluence is unlikely to repeat soon. This has implications for both how networking research is evaluated, and more importantly how it can be successful. In particular, new networking research needs to be aware of the "weight" of the existing Internet ecosystem and how it influences success. Conversely, the Internet's ubiquitous presence offers an incredible source of new usages, which beg to be explored and studied. The talk uses two examples from the speaker's own research to illustrate those aspects. The first addresses the "chicken- and-egg" deployment hurdle that network technologies often face, and investigates a specific solution to tackle it. The second is based on an example of the type of questions that arise in a "networked" society, where complex interactions are the norm and understanding them becomes increasingly important.
Acknowledgment
This talks borrows from work and discussions with numerous colleagues and students. In particular, the two examples used in the talk rely on joint work with, in alphabetical order, H. Afrasiabi, J. C. de Oliveira, S. Venkatesh, and S. Weber.
About the speaker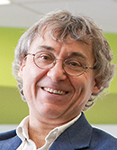 Roch Guérin received an engineer degree from ENST, Paris, France, and M.S. and Ph.D. degrees in Electrical Engineering from Caltech. He joined the Computer Science and Engineering department of Washington University in Saint Louis in July 2013 as the Harold B. and Adelaide G. Welge Professor as well as its new department chair. Prior to joining Washington University, he was with the Electrical and System Engineering department of the University of Pennsylvania, which he joined in October 1998 as the Alfred Fitler Moore Professor of Telecommunications Networks. Dr. Guérin has published extensively in international journals and conferences, and holds more than 30 patents. He has also been active in standard organizations such as the IETF where he has co-authored a number of RFCs. His research is in the general area of networked systems and applications, from wired and wireless networks to social networks, and encompasses both technical and "economic" factors that affect network evolution. Dr. Guérin is an ACM (2006) and IEEE (2001) Fellow. In 1994 he received an IBM Outstanding Innovation Award for his work on traffic management. He received the IEEE TCCC Outstanding Service Award in 2009, and was the recipient of the 2010 INFOCOM Achievement Award for "Pioneering Contributions to the Theory and Practice of QoS in Networks".
---
Can the Internet survive the next 40 years?Prof. Henning Schulzrinne, Columbia University, City of New York, NY, USA and US Federal Communications Commission (FCC)
Abstract
The Internet and associated Internet technologies are now roughly 40 years old and have clearly become one of the core civilizational infrastructures, similar to water, electricity and transportation. It is also rapidly displacing older communication networks such as the telephone network and cable video distribution. This raises a number of important questions: What are the key attributes of the Internet that led to its success? Can the Internet be made secure? What are the economic challenges for the Internet? How can we ensure an open Internet for all? What happens when old-style networks are being replaced? What are the key challenges for the mobile Internet? The talk will try to illustrate some of the problems at the intersection of public policy, economics and engineering, motivating why addressing these issues needs contributions from all three disciplines.
About the speaker
Prof. Henning Schulzrinne, Levi Professor of Computer Science at Columbia University, received his Ph.D. from the University of Massachusetts in Amherst, Massachusetts. He was an MTS at AT&T Bell Laboratories and an associate department head at GMD-Fokus (Berlin), before joining the Computer Science and Electrical Engineering departments at Columbia University. He served as chair of the Department of Computer Science from 2004 to 2009, as Engineering Fellow at the US Federal Communications Commission (FCC) in 2010 and 2011, and as Chief Technology Officer at the FCC since 2012. He has published more than 250 journal and conference papers, and more than 70 Internet RFCs. Protocols co-developed by him, such as RTP, RTSP and SIP, are now Internet standards, used by almost all Internet telephony and multimedia applications. His research interests include Internet multimedia systems, ubiquitous computing, and mobile systems. He is a Fellow of the IEEE, has received the New York City Mayor's Award for Excellence in Science and Technology, the VON Pioneer Award, TCCC service award, IEEE Region 1 William Terry Award for Lifetime Distinguished Service to IEEE, the UMass Computer Science Outstanding Alumni recognition and is a member of the Internet Hall of Fame.
---
End-to-end performability analysis for infrastructure-as-a-service cloudProf. Kishor S. Trivedi, ECE Dept., Duke University, Durham, NC, USA
Abstract
Handling diverse client demands and managing unexpected failures without degrading performance are two key promises of a cloud delivered service. However, evaluation of cloud service quality becomes difficult as the scale and complexity of cloud system increases. In a cloud environment, a service request from a user goes through a variety of provider specific processing steps from the instant it is submitted until the service is fully delivered. Measurement-based evaluation is expensive especially if many configurations, workload scenarios, and management methods are to be analyzed. To overcome these difficulties, in this talk we propose a general analytic model based approach for end-to-end performability analysis of a cloud service. We illustrate our approach using Infrastructure-as-a-Service (IaaS) cloud, where service availability and provisioning delays are two key QoS metrics. A novelty of our approach is in reducing the complexity of analysis by dividing the overall model into multiple interacting stochastic process models and then obtaining the overall solution by iteration over individual sub-model solutions. In contrast to a single one-level monolithic model, our approach yields a high fidelity model that is tractable and scalable. Our approach and underlying models can be readily extended to other types of cloud services and are applicable to public, private and hybrid clouds.
About the speaker
Dr. Kishor S. Trivedi is a Chaired Professor of ECE at Duke University. He is the author of a well-known text entitled, Probability and Statistics with Reliability, Queuing and Computer Science Applications. He is an IEEE Fellow and Golden Core Member of IEEE Computer Society. He has published over 500 articles and hassupervised 45 Ph.D. dissertations. He is the recipient of IEEE Computer Society Technical Achievement Award for research on Software Aging and Rejuvenation. He works closely with industry in carrying out reliability/availability/performability analysis, providing short courses and in the development and dissemination of software packages such as SHARPE and SPNP.