Important Dates
Abstract Registration:
November 28, 2011
Full Paper Submission:
December 12, 2011
Acceptance Notification:
February 13, 2012
Camera Ready and Early Registration:
February 27, 2012
One Minute Madness Submission:
May 6, 2012
Networking Conference:
21-25 May, 2012
Venue
/
About Prague & Czech Republic
About Prague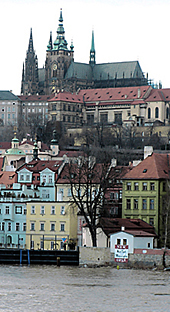 Prague (Praha), the capital of the Czech Republic is the most important political, economic and cultural centre in the country and the seat of the country President, Government and Parliament.
In Prague there are many outstanding national cultural monuments which are of particular interest to foreigners. They include, in particular, Prague Castle and St.Vitus' Cathedral and the whole complex of The Old Town Square with the Town Hall, Tyn Church and Kinsky Palace. The most notable secular buildings and structures are the Charles Bridge, the Carolinum, the National Theatre, the Estates Theatre and the New Town Hall. Prague also has a number of remarkable cathedrals, churches and cloisters.
Throughout its history Prague has been situated at the crossroads of European cultures. Charles University founded in 1348, the oldest institution of its kind in Central Europe, is a prime example of this tradition. Prague's musical life dates back to the Middle Ages – from Hussite chorals and Baroque organ music to the compositions of the great exponents of Czech music, Bedrich Smetana and Antonin Dvorak. The best-known orchestra is the Czech Philharmonic Orchestra. Every year in May and June the Prague Spring International Music Festival takes place in concert halls throughout Prague. The National Theatre, built with donations given by the entire Czech nation, has an outstanding tradition. Prague has many rich collections of creative art on display in many galleries. Prague museums also exhibit various collections of world importance. All lovers of art come into their own in Prague.
All the above makes Prague one of the most popular destinations for foreign visitors. Prague with an exquisitely preserved historical center is known as the "Golden City" or "City of hundred spires". Prague is now among the most visited towns in the world. Many visitors come back to Prague several times in their life.
Important facts about Prague: Population: 1 300 000 inhabitants; Area: 500 km2; River: Vltava.
About the Czech Republic
The Czech Republic lies in the geographical heart of Europe and consists of three regions - Bohemia, Moravia and Silesia. The capital is Prague and the second largest city is Brno. The Czech Republic and its landscape are very diverse. The highest point is the peak of Snezka (1602 m) in the highest Czech mountain range Krkonose (the Giant Mountains) in North Bohemia. Visitors to the Czech Republic can enjoy beautiful, natural landscapes with caves, mountains, lakes, sandstone formations etc. There are hundreds of castles, chateaux, palaces with valuable collections and several unique protected towns with a variety of architectural styles. Prague and many of the smaller towns in the Czech Republic have well-preserved centers and are noted in the UNESCO register as world cultural landmarks. Thanks to its location at the crossroads of various cultures, the Czech Republic has countless cultural and historical points of interest. Important facts about the Czech Republic:
Population: 10 400 000 inhabitants
Area: 79 000 km2
Language: Czech (Slavic language)
President: Vaclav Klaus
Currency: Czech crown (Kč)
App. rates in 2011: 1 EUR / 25 CZK; 1 USD/ 18 CZK