Important Dates
Abstract Registration: Nov 17, 2014
Nov 28, 2014 (extended deadline)
Full Paper Submission: Nov 28, 2014
Dec 8, 2014 (firm deadline)
Acceptance Notification:
Mar 7, 2015
Camera Ready and Early Registration:
Mar 18, 2015 Mar 25, 2015
Networking Conference:
May 20-22, 2015
Toulouse Pictures
Registration
All participants of Networking 2015 should register and send their registration form as indicated on the registration form:
Terms and Conditions of Registration and Attendance
Authors of papers must additionally follow the guidelines on the submission page. Each paper must be presented at the conference by one of the authors. Only one paper may be presented per one full (non student) registration. Students presenting a paper need to register as a regular author. Authors of full papers must register before March 26 to make sure that their papers appear in the conference proceedings.
Registration Fee
The registration fee includes a copy of conference proceedings, lunches, coffee breaks, entrance to all technical sessions, and social events.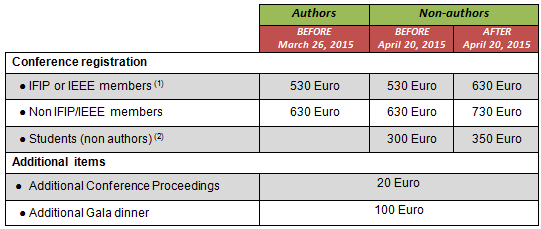 (1) To qualify for IFIP/IEEE member rates, the membership number must be provided in the registration form.
(2) Non-author students may register at Student rate. A valid student ID-card has to be provided along with the registration. Student registration fees do not include conference dinner.
Payment
Payments should be made by credit card (MasterCard, Visa, American Express). If a credit card payment is by no means possible, we will offer bank transfer as an alternative for payment. Be aware that registrations without appropriate payment will not be honored until the full payment is received. For further details, please contact the registration management (). The registration management will take care of the remaining steps. Attendees will receive the document "Registration and Payment Confirmation" by mail or at the registration desk of Networking 2015.
Refund policy
No refund will be made for cancellations from authors at any time. In case of an emergency that prevents the original presenter from attending, the registration may be transferred to another presenter.
Cancellations received until April 25, 2015: full refund less 50 € for administrative costs. No refund will be made for cancellations received after April 25, 2015. No partial or total refunds will be made for participants who fail to attend the event. All cancellations must be sent to JOUBERT VOYAGES in writing (fax or e-mail).
Letter of invitation
Conference attendees requiring a letter of invitation in order to attend the Conference may send a message to . Please note that this procedure aims to assist delegates, who need to obtain a visa or permission to attend the Conference. It is not an official invitation covering fees and other expenses and does not imply any financial support from the Conference.
Liability
Conference management, registration management, IRIT, Paul Sabatier University, and all organizations and individuals who are employed by or associated with in connection with this conference will not be responsible and shall be held harmless by all conference attendees for damage or loss resulting from fire, theft, or any other cause whatsoever, including accident or injury to attendees, the public and others. The attendee agrees to pay promptly for any and all damage to the conference building or its equipment incurred through carelessness, or otherwise, of attendee.
Insurance
Conference attendees are advised to see that their regular company insurance includes extra-territorial coverage, that they have their own theft, public liability and property damage insurance. Conference Management and all organizations and individuals who are employed by or associated with it in connection with the Conference will not be responsible for injury or damage that may occur to an attendee nor to the safety of any property against robbery, fire, accident, or any other destructive causes.